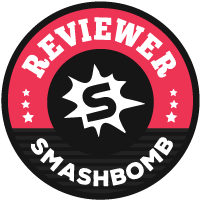 Here at 365Flicks we are proud to say that we have joined forces with the amazing folks over at SmashBomb. A new and fast rising Platform for influencers and comsumers alike to give their honest opinions and ratings on everything you care about from Movies, TV Shows, Tech, Books and much much more… You can even rate Podcasts so why not jump on and give us 10 Bombs hahaha. Jump over to the website and have a look for yourself by clicking the badge above or the Link here – https://smashbomb.com
This whole thing started as a blog site called 365Flicks (DUH). the site was a place that Kev and Chris could go to vent there frustrations over the latest big budget Hollywood blockbuster or gush over the rare good ones. Kev started the whole thing with his ill fated attempt at the 365 challenge, whereby you watch 365 movies in 365 days. I think I made it about 97 movies in over about 120 days so suffice it to say it never went that well. Chris was the special reports type guy gushing over his favorite shows like Firefly, Sopranos and the like. Also on board for articles was good buddy of the show Ashley Nicoll who guested on a few episodes towards the start.
So why the Podcast???
I am glad you asked that good folks. Well it was obvious progression on our part. There we were watching Empire or Jedi or Fanboys I honestly don't remember and we were barely watching it, more talking over it and I put the Idea to Chris of a Podcast about all the things we love the most. Movies, TV, Games and Comics. Sooooo I borrowed a H2 Zoom mic off my buddy Darren Roberts (Thank You Darren) and we recorded Episode 00 which you can hear on the page (Its not great though hahahaha). We then moved over to Skype and eventually made it to our own studio (Built by Kev himself).
So who are Kevin Haldon and Christopher Richardson of the 365Flicks Podcast???
WHEN THE 365GUYS MET ROSS MARQUAND AT NEWCASTLE FILM AND COMIC CON (AARON FROM THE WALKING DEAD)
Well Kevin (Myself, Stop talking in third person asshole) I am in the early stages of my 30s and married to a very understanding wife and we have two, soon to be 3 awesome kids. I have been in love with film since an extremely early age and that love has never left me. I honestly believe that if you sit down to watch any movie… ANY MOVIE with the intention of not enjoying it, well you are in the wrong place. I love all sorts of flicks from the massive Blockbusters to the low rent Indie. The 365Flicks Podcast was born from listening to people like Mark Kermode who I felt had received one to many goody bags in his time and is just going through the motions, So I thought it was time to take back the FAN perspective. Thats what Chris and I have to offer, A FAN perspective. Love it or hate we are gonna speak on it. 
Chris might update this one day the Lazy Bugger…
THE BUILDING OF THE 365STUDIO… (PODCAVE)
Soooo that is us people the hosts of the 365FlicksPodcast, Kev and Chris who will bring you everything from the latest news on the TV and Movie scene the Reviews of the newest releases out there and all sorts of things like our meaningless top 5s to our famed 365Cut in which we re-write monstrositys like Die Hard 5. Why not just stop reading this shit and head over to the episodes page and bloody well catch up. After you have done that you should definetly swing by the RATE and Review part of whatever app you use and help us out by leaving a little 3 to 5 star review.
Thank You all for listening
KEV